Martin W. Bender
Augustine's On Christian Doctrine is an ancient minister's manual that reflects much of what continues to be taught to those seeking pastoral positions in local congregations. Augustine essentially takes the basics of pastoral ministry and communicates to his readers methods for interpreting scripture, composing sermons, and delivering messages. He extols the use of the original languages whenever possible and emphasizes the importance of effective communication while preaching the gospel.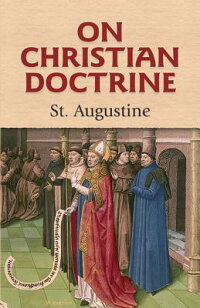 Perhaps the most surprising element of Augustine's work is its similarity to modern ministerial training. He explains the great importance of rightly interpreting the text, bringing out the technique of allowing the simpler passages of scripture to explain the more difficult. This, of course, remains one the primary building blocks of biblical exegesis.
In the construction of sermons or lessons, Augustine argues in favor of the use of logical argumentation. He posits that logic is essentially an observable characteristic of God's nature and as such should be embraced and fully utilized in the presentation of the gospel. For those familiar with Augustine's other writings this should come as no surprise as he builds clear arguments in his sermons following a logical progression of thought.
Despite this reliance on the use of logic in developing messages, Augustine also recognizes the necessity to vary the style of delivery based on the audience, the message, and the text from which the message is derived. He sees that there is a place for different types of sermons as well as the use of another's sermon in order to best communicate the gospel to a particular audience. In this area he takes on a very pragmatic attitude encouraging his readers to use the method that is most likely to produce the desired results. Funny how a man writing in the fifth century can be so very contemporary.
This book was difficult to get through. For all those who lament the difficulties of John Owen I'd suggest reading a little Augustine and getting over it. I'd happily read On the Mortification of Sin again before On Christian Doctrine. That being said, Augustine's Confessions ought to be read by every Christian and will probably make it onto my reading shelf this year, but OCD was somehow brutal to me and made me hate reading for three months. I'd avoid this one unless you're planning on going into vocational ministry. Read some of his sermons instead and you'll be much better served.
Having read a little of "Mr. Orthodox" (that's what one of my seminary professors called Augustine) I'm moving now to the charred remains of the emergent movement to see if there is anything left to salvage in Donald Miller's Blue Like Jazz.